How to Maximize Yield in Pharmaceutical Production with PCM Micro Screens
As an industry, pharmaceutical production is governed by strict standards to ensure medication is always safe for use and achieves its required performance. We know that drug manufacturers must implement rigorous quality control measures, such as fine particle filtration and separation processes to obtain the appropriate particle size distribution (PSD) for maximum efficacy.
Micro screens are an essential component in that process, as they ensure the active pharmaceutical ingredient and excipients (fillers and lubricants) are all present in the necessary size to procure the proper dosage. This formulation affects the dissolution, stability, uniformity, bioavailability (the degree and rate at which an administered drug is absorbed by the body's circulatory system) and effectiveness of the final product.
Photochemical machined (PCM) micro screens are highly precise components that can meet exacting specifications while outperforming the alternatives in the high stakes pharmaceutical industry where every particle does truly matter.
Why choose photochemical machined micro screens?
Single-piece design
A single-piece micro screen design eliminates burrs, overlaps, traps, or hidden spaces that quickly become susceptible to particle buildup. This blinding, when individual particles settle and get stuck inside the holes, is common in wire mesh screens. It ultimately prevents other particles from passing through and results in lower efficiencies and a slower rate of production.
In a single-piece PCM micro screen design, there is simply nowhere for the product to build up. It maximizes yield and reduces waste in the expensive pharmaceutical industry.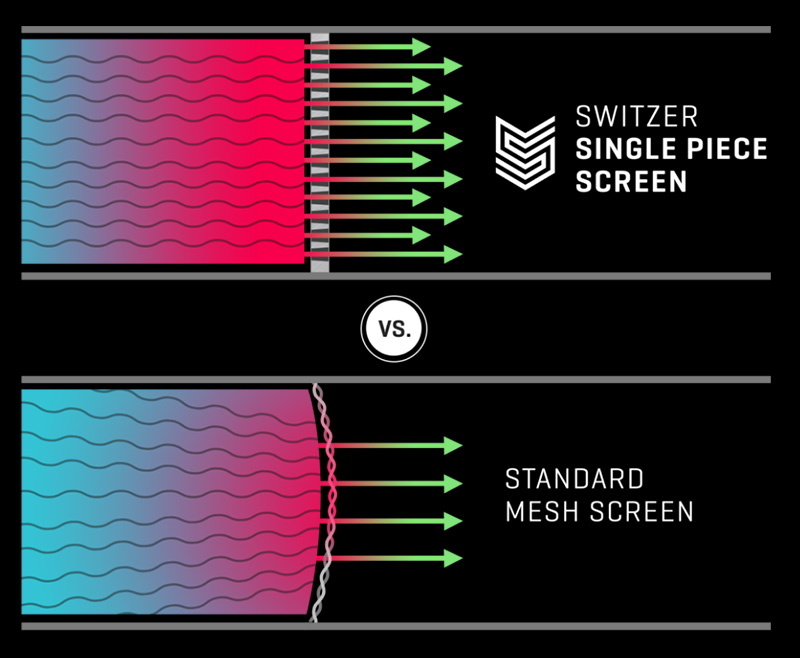 Dependable structure
A single-piece stainless steel micro screen is built to last. It offers a stronger overall strength and rigidity, when compared to a wire mesh screen with multiple pieces that can fail at multiple points.
With its durable design, a PCM micro screen can also withstand higher flow pressure. Flowability is critical in pharmaceutical production because reduced flow can affect manufacturing, which can disturb the product quality in terms of weight and content uniformity.
Furthermore, PCM micro screens maintain their dimensional stability under high flow pressure, which allows for consistent particle dispersion. This results in higher volume production in less time without having to replace the screen as frequently. When production is optimized, it is easier to ensure compliance with regulatory health and safety requirements too.
Variable hole design
Hole design directly affects particle flow rate. For example, conical holes encourage particles to naturally circulate with an increased speed, while also reducing pegging and blinding. This design is easily achieved with PCM micro screens but not possible in a wire mesh screen.
PCM micro screens are not a one-size-fits-all approach. In fact, each can be customized to the specific hole shapes needed for a given filtration and separation process. Wire mesh screen patterns are limited, which often don't make them precise enough for exacting particle size reduction. 
Edge configuration
When a PCM micro screen offers sharp, burrless edges, particles flow more precisely through the process. The alternative features rounded and bumpy edges, which cut already fine particles into even finer, dusty particles. Pharmaceutical dust not only poses a health risk at the facility, but also cannot be re-utilized, thus again reducing the overall product yield.
Your Partner in Pharmaceutical Production
Particle size reduction and separation processes are essential to the pharmaceutical industry. These are steps that affect the overall success of a final product in a highly regulated and costly industry. It's also one that relies heavily on the precise execution of micro screens.
Switzer offers a unique process for photochemical machined micro screen designs that maximize yield, optimize performance, and reduce waste.
Learn more about Switzer PCM micro screens and request a consultation regarding your pharmaceutical production process today! We will offer guidance on equipment performance optimization, custom openings, and cost efficiency and savings.
Read More →