What Is Particle Size Reduction and How Switzer Micro Screens Can Help
Particle size reduction is the process of reducing large solids or bulk material masses into smaller uniform-sized particles.
Particle size reduction is necessary for processing products, enhancing and improving a material's performance properties, or meeting stringent processing requirements. Particle size can affect the viscosity, flow rates and stability of a given product. In high-production environments, materials that are out of specified size ranges can clog equipment, separate out of solution and result in substandard products.
Numerous industries depend on particle size reduction, including dairy, pharmaceuticals, mining and food processing, among others. Screening is often necessary to meet narrow size distribution requirements in these industries. This separates based on precise particle size as the material moves across a micro screen.
Depending on the final application, various methods are used to achieve the desired particle size, including:

Rotary
This method consists of a perforated cylindrical drum that is typically elevated at an angle. Size particle separation and reduction is achieved as the material spirals down the rotating drum, where the undersized particles (smaller than the screen openings) pass through the screen, while oversized particles exit at the opposite end of the drum.
This method is commonly used in industrial, municipal wastewater, dairy and food processing industries.
Vibratory
As the name suggests, this method utilizes a vibrating deck in conjunction with a micro screen to capture a specific size fraction of the particle mixture. The vibrations break down the tension between particles and force them to separate. Undersized particles pass through the screen, while oversized particles are carried over the screen surface.
The mining, pharmaceutical, food processing and chemical industries commonly use this method for particle size reduction.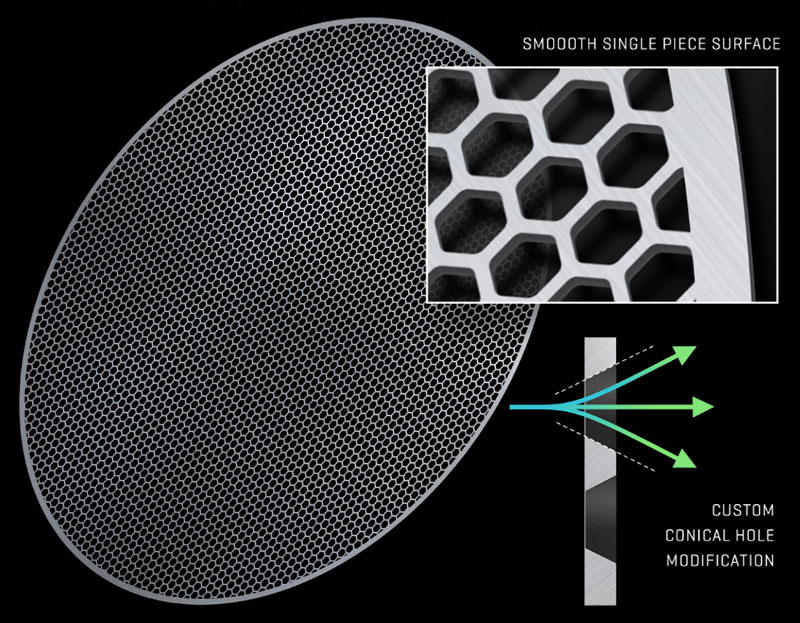 How Switzer Can Help
Switzer's micro screens are specifically designed to perform in both rotary and vibratory machinery for a variety of industries by providing:
Customized Openings
Our custom capabilities will design a micro screen that fits into your existing machinery and equipment to avoid any one-size-fits-all assumptions. This also ensures the shape, size and configuration of the screen's holes match your industry's exact needs for particle size reduction. This doesn't require us to produce multiple tools to achieve complex holes either, which means Switzer is faster and more affordable when compared to mesh screens.
Higher Capacity
Our dependable structure allows for a single piece screen to perform more particle size reduction for a longer time. Plus, the conical holes in a Switzer micro screen also increases flow rate, which means higher volume production without the backflow of materials.
Less Downtime
Vibrating and rotary screens need to endure the necessary amount of force to conduct particle size reduction without affecting the other parts of the machine. Our durable micro screens can absorb more movement while maintaining their dimensions even under high flow pressure.
Easy Cleanability
Our single piece design has no burrs, overlaps, traps, or hidden spaces, which greatly reduces the possibility of blinding. This also makes cleaning during process changeovers much easier with less opportunity for cross contamination.
Improved Scalability
Photochemical etching is a cost-efficient, scalable option, which helps ensure your suite of machinery will receive precise micro screens without additional costs or set-up delays.
For Those Who Want a Partner, Not Just a Part
When it comes to your particle size reduction needs, you will have plenty of options depending on your industry's unique specifications. Switzer is here to offer industry know-how, state-of-the-art equipment and a meticulous approach to help you improve performance and optimize cost for your next project.
Read More →