Will Gen Z Throw the Manufacturing Industry a Life Jacket?
As the manufacturing industry deals with a lack of labor now, employers worry about the supply for future candidates. According to Deloitte, there will be a manufacturing labor shortage of 2.4 million by 2028.
However, there is potential for a saving grace: Gen Z. After seeing Millennials drown in student-debt, many more Gen Zers are open to college alternatives, such as vocational schools. Additionally, a recent study – L2L Manufacturing Index – suggests that the idea of joining the manufacturing industry is much more popular among Gen Z members when compared to previous generations.
So, as Gen Z candidates begin to flood the job market, what can manufacturers do to secure them?
Gain a Presence Online
Growing up with technology right at their fingertips, Gen Z members are extremely tech-savvy. They know how to navigate the Internet quickly, learn online and have integrated social media into their daily lives. Gen Zers will turn to your company's website and social media platforms to get an idea of who you are; and if the pages aren't modern or interesting enough, they won't stay for very long.
Showcase Growth-Within Opportunities
With childhood memories of how the 2008 Recession affected their families and now entering the job market amid a worldwide pandemic, unstable economies have scarred Gen Z. Job security and practical benefits – good health coverage and 401K programs – attract Gen Zers, rather than the ping-pong tables and Wii consoles that draw in Millennials.
Emphasize Workplace Diversity
Gen Z is far more ethnically diverse that previous generations; while the majority (52%) is white, that is far less than 70% of Gen Xers. Study results show that 77% of Gen Zers said that a company's level of diversity has an impact on their decision to work there. Promoting diverse and inclusive workplaces will go a long way it comes to hiring Gen Z candidates.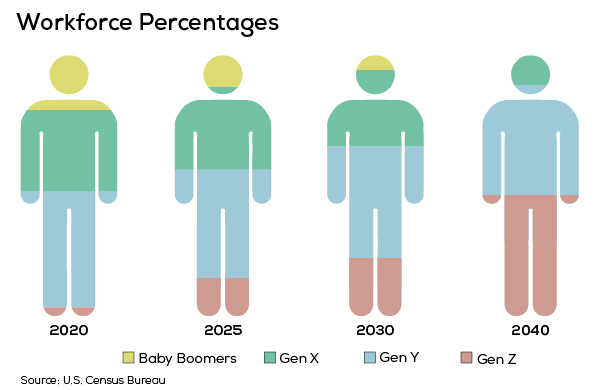 Read More →